According to the Filipino news portal BitPinas, about five million residents in Philipines can now use Ripple's XRP crypto token to pay for their bills instead of using fiat money. The crypto payment platform coins.ph now added XRP (XRP).
XRP (XRP) added on crypto payment platform with 5 million members in Philipines
Coins.Ph is a cryptocurrency platform based in Philipines that allows Filipinos to pay their bills using cryptos. The site launched in 2014 and, according to the latest stats released by the company, the platforms totals about 5 million members, but the organization hopes to reach 20 million users by 2020.
At the moment, Coins.Ph offers its clients the possibility to use Bitcoin (BTC), Ethereum (ETH), Bitcoin Cash (BCH), and, since now, XRP (XRP) in order to pay for their bills.
However, even though the crypto payment platform added XRP (XRP) as one of its payment methods, the Ripple's token listed only on the Android version of the platform, the company stating that they plan to add the token to the other versions, as well.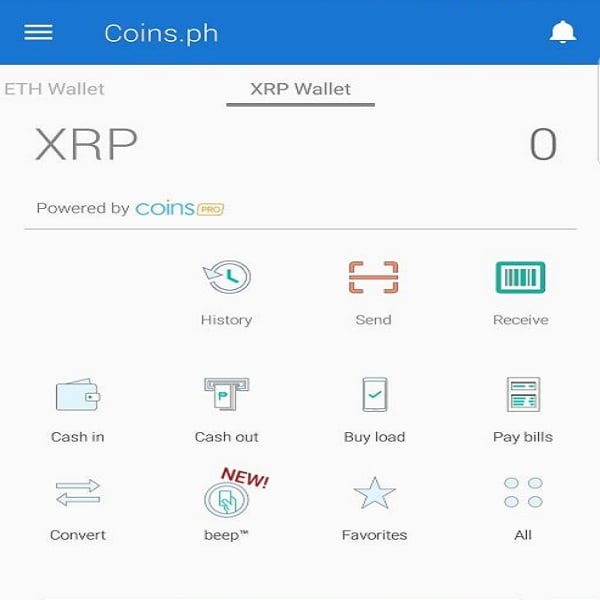 XRP (XRP) dropped significantly in the last seven days
Despite the excellent news surrounding Ripple as a company, its crypto token, XRP (XRP), is not behaving so well because, as explained by Ripple's CEO, Brad Garlinghouse, the token is not entirely dependent on the parent company.
At the moment of this writing, Ripple's XRP trades at $0.338, dropping by about 1.20% in the last 24 hours. However, in the past seven days, XRP (XRP) plummeted by more than 22.5%.
The token remains the third in the market, totaling a market cap of $13,3 billion, while the fourth cryptocurrency, the Bitcoin Cash (BCH), sums a market capitalization of over $10,3 billion.
Ripple's XRP is also on Wirex Visa card
The news about the addition of the XRP (XRP) on the Filipino crypto payment platform, Coins.Ph, comes after the announcement that Ripple's XRP made it to Wirex Visa card.
Accordingly, XRP holders can now use their Wirex cards to pay for goods and services, and within the first hours, after the announcement emerged, users spent millions of dollars in XRP (XRP).