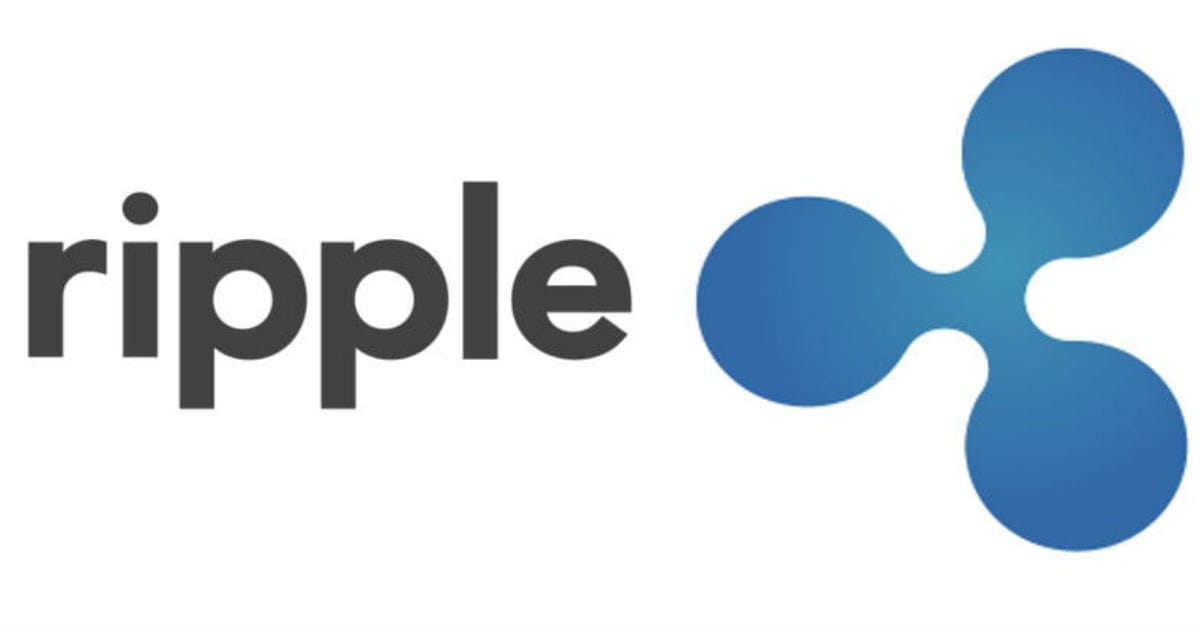 Ripple is up 90% today on huge news out of Korea and Japan that testing of international transfers between banks will start as early as next spring. Recently we reviewed why Ripple could have a huge 2018 and mentioned the addition of Shinhan bank as a Ripple partner. Shinhan is the second largest bank in Korea and serves millions of customers and businesses. At the time the news was little covered but turns out it was the prelude to today's announcement.
Japan-South Korea blockchain payments enter trials Friday https://t.co/CugJbU7v9l

— Nikkei Asian Review (@NAR) December 12, 2017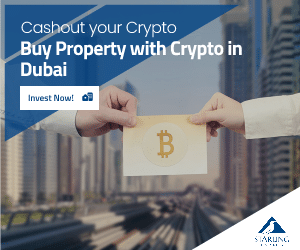 Litecoin (LTC) had not even settled into the #4 spot yesterday before Ripple came roaring back. Ripple already has active transfers and testing between the US and UK with Santander Bank and includes transfers to many European nations. The addition of Shinhan and wider Korean Japan market is huge news for Ripple (XRP) and "one-ups" Stellar Lumens (XLM). Ripple is focusing on large financial institutions as it expands market share in hopes to make international monetary transfers fast and cheaper. Ripple already has an impressive list of over 100 banking partners in testing.
Read about the huge Litecoin move yesterday
Shinhan Cryptovault
South Korea in the largest crypto market in the word today making up over 40% of the total market share. Last month Shinhan bank announced it was testing a cryptovault to allow banking customers to store digital currencies within the bank's secure network. This is the first large bank to make such an announcement. If Shinhan begins to accept deposits of cryptocurrency it would be the first bank to allows such deposits into mainstream banking which opens the door to other products such as loans and interest bearing accounts for crypto currencies.
55 Billion XRP enter Escrow
There has long been a concern that the Ripple dev team might flood the market with 55 billion XRP which were not released into circulation. The plan was for the coins to enter escrow for release over time as adoption increased. The schedule is set to released 1 billion XRP each month for 54 months after launch allowing for a controlled expansion of the circulating XRP tokens on the blockchain.
The Escrow feature also allows users to set conditions for release of held tokens. This may be used for banking transfers, incentive programs or other uses requiring scheduled transfers of assets. The coins released from escrow will be sold to users and any unsold coins will be placed back into escrow and set to release again at the end of the current schedule. The previous 18 months have seen an average of 300 million XRP sold per month according to the Ripple Dev team and information posted here.
Ripple Volume
By now you know my stance on volume. Volume indicates demand and use of any crypto token and the undisputed leader in volume and liquidity has been Litecoin (LTC). Ripple briefly flirted with an increase in volume before the recent plummet and retreat on XRP price. The last week has seen the volume slowly increase prior to today's explosion in price. The increase is not clear on the chart as the sudden increase in the last several hours far exceeds the recent volume levels.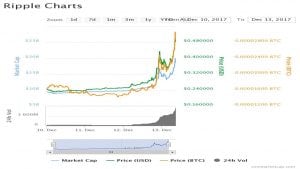 Despite the sudden rise Ripple still manages to trail Litecoin (LTC) in total liquidity. Litecoin has held steady at 30-35% trading volume on market cap ($6 billion to $16.5 billion) while Ripple (XRP) is sitting at $3B:$18.5B or about 16%, roughly half where Litecoin sits. The next 24 hours will be interesting as if the volume does not hold with Ripple the price could retreat as we have seen before. With a 90% run-up there is likely to be some profit taking here.
Hirematch.io is Ripple for the future Hiring market
2018 and beyond
Ripple is part of the new generation blockchain economy with Stellar Lumens (XLM), Hirematch.io, connectjob.io and now has monetary transfers in 4 of the top 10 markets in the world (US, UK, Japan, South Korea) with an expanding number of banking partners. With Shinhan testing a crypto vault and now the announcement of transfers between South Korea and Japan, Ripple is set for an exciting 2018 and beyond. Litecoin (LTC) barely kept the #4 spot on coinmarketcap warm for Ripple to move back up. Ripple's token XRP is reacting according and jumping on the news. It is quite possible today's move is just the beginning as Ripple gains more traction with legacy banking. 2018 can't get here fast enough. Be ready for an exciting ride with Ripple (XRP).