Recently, Stellar Lumens (XLM) got in the 5th place when it came to the list of the biggest cryptocurrencies on the market. It's true, the difference is of only $100 million, but the last 24 hours worth of 26% drive gave the investors of the cryptocurrency something to keep them busy.
At press time, EOS was trading at $6.08 to a token, and the market cap was of $5.5 billion. By comparison, you could trade XLM at 29 cents, and the market cap was of $5.6 billion.
Many changes in the cryptocurrency world
It was a very positive week that gave us big jumps for Cardano (ADA), XRP and Tron (TRX). Many people thought that the success of the XRP pump came in anticipation of the xRapid's performance. Cardano and Tron had active weekly updates that came from their teams. It's true, the market was tolerant, and we've seen big advances in the cryptocurrency world – and it was different than what happened last year.
EOS hit its apogee at the end of April, at the sum of $20, because of the Mainnet hype, that yielded when it comes to the market pressure and then dropped by almost four times its apogee value, and came to the price of $6. However, Stellar Lumens (just like other coins), found its apogee at $1 in January 2018, during the bull run.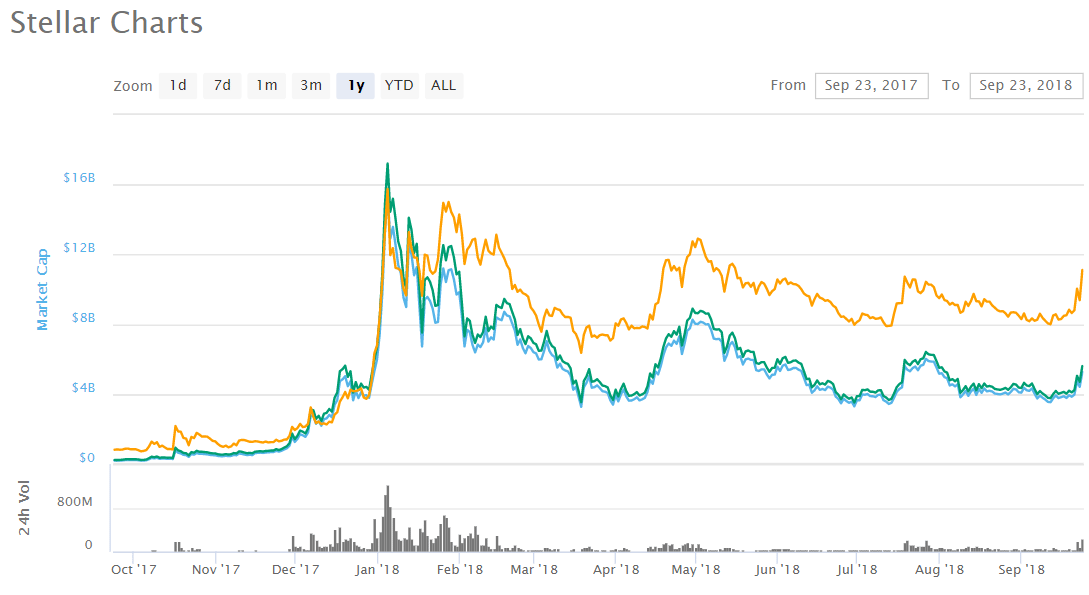 Why are the people so interested in this pump?
It happened four weeks ago when Stellar got to its new milestone (after having 1 million accounts registered). In the last 2 months, there were many announcements that got people interested in the present pump.
The recent volume of Stellar Lumens (that's of 24%) came from the Korean exchange Upbit, with the trading pair XLM/KRW.